Knob & Tube Wiring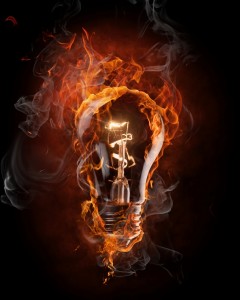 Knob & Tube wiring in itself is not dangerous. In fact, the tradesmen that first manufactured it built it to last. However, homeowners trying to purchase a house with knob & tube electrical systems find it hard to find an insurance company willing to cover the house because of the fact that knob & tube wiring is so very outdated and can't stand up to today's electrical standards. Call Power Pros today if you discover knob and tube installations in your house. Our professional team of electricians will be happy to assess your wiring and help your decide to rewire your house with new electrical standards.
Knob & tube wiring was used extensively in houses built from 1880 to the 1940s. This type of wiring is made with copper conductors attached to porcelain insulating tubes and knob insulators nailed into place, hence the name. The main problem with this method of wiring is that is can't handle the electric load of today's appliances. Think about what a house in 1880 would have in the way of electrical appliances versus household of today with electric ovens, refrigerators, TVs, microwaves, even a modern day air conditioning system. It's no wonder knob and tube wiring would have issues.
Another huge red flag about knob & tube wiring is that this system was developed before circuit breakers and fuse boxes. Knob and tube systems also don't have grounding wires or components. Some homeowners have tried to bypass this by installing three pronged outlets in areas where appliances need it but this doesn't provide grounding, just an extra hole for the third prong, basically.
It's always important to have a licensed electrician make any installations or repairs to your wiring systems. Our professional team of electricians have years of experience assessing wiring systems and providing viable solutions that help make your house safer and protect you and your family.
If you need to contact a Knob & Tube Wiring expert then please call 408-842-4111 or complete our online request form.
We Service the entire Santa Clara County including San Jose, Gilroy, Morgan Hill and surrounding areas.