Aromas Electrician & Electrical Repair Specialist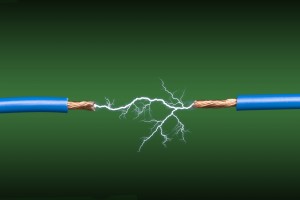 Power Pros is a full service Aromas Electrical Contractor. Our licensed and skilled electricians have years of experience installing complex electrical systems and helping our customers maintain the highest quality and safest electrical systems on the market today. Over the years, the technological advances have refined the way we use power for our appliances but often doesn't address the affect it has on current electrical systems in home that were not built in the past ten years or so.
Aromas Electrical Wiring Replacement
Many older houses have outdated wiring systems that cannot handle the power load of today's appliances. One big warning sign is if your house has aluminum electrical wiring. Aluminum was used because it was inexpensive and easy to get. Unfortunately, aluminium expands and contracts with fluctuations in temperature but the outlets and circuits attached to them do not change size. This causes overheating and can lead to sparking a house fire. It is important that you call an electrician as soon as possible to help rewire you home with copper wire which is much safer.
Aromas Commercial Electrical Services
The professional team at Power Pros is licensed, skilled and courteous. We understand that electrical failure can really hinder the day to day operations of your business and we strive to make repairs as quick and painless as possible without disrupting the flow of traffic. Commercial electrical systems need quite a bit of TLC because the amount of power needed to keep a business running vastly overshadows most residences. With all of that extra draw comes more things than can go wrong. Show your customers and your employees that you take pride in your business by engaging the services of our experienced team of electricians!
Aromas Electrical Safety Inspections
Safety inspections are comprehensive analyses of a building's electrical system. Don't wait until you already have an issue to schedule and inspection. Our licensed and experienced inspectors assess all of the electrical components in your house to help determine the health of thing like the wiring, circuit panels, the power load and more. Inspections are a great preventative tool to use as well. We help diagnose problem areas so you don't have to worry.
If you need to contact a Aromas electrician then please call 408-842-4111 or complete our online request form.
Recent Articles
The Importance of Surge Protection

One of the best ways to take care of your home is investing residential surge protection. There are many benefits to having good management of your house's electrical flow. When electricity travels, it can cause electrical outbursts called power surges in certain appliances. These surges, if not managed well, damage appliances and can eventually wear...

Read More
Why Electrical Repairs Should Always be Done by Professionals

Most households and buildings regularly require electrical repairs. This is logical as electricity is always used for operating appliances, equipment, and other machines. Short-circuits and small electrical shocks are normal and are quite usual. However, it is surprising that services of professional electricians are hardly sought. No one could blame home and building owners for...

Read More