Aluminum Wiring Replacement Experts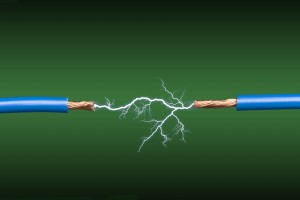 If you are the owner of an older house made in the 1960s or 1970s, be aware that it may have been wired with aluminum wiring. According to the Consumer Product Safety Commission, houses with aluminum wiring are "55 time more likely to have one or more connections reach fire hazard conditions." It's imperative that you make sure you call a licensed Electric Contractor as soon as possible to replace the aluminum with modern copper wiring because the aluminum poses several fire and health risks.
Aluminum wire poses a great fire risk because it expands and shrinks depending on the weather and temperature. The rest of the hardware that is used alongside the wiring is not made to change shape and size. The resulting size change conflict causes overheating and sparks, sometimes resulting in serious house fires if not caught quickly enough. Another problem with aluminum wiring is oxidation which causes the wiring connection to break and not work as it should.
Another thing to take into consideration is that if you do discover you have aluminum wiring that needs to be replaced, only ever contact a licensed professional electrician. One popular stop-gap wiring practice used to be splicing copper wire with old aluminum wire. This practice is called "pigtailing" and should only be done by someone experienced because it required very specialized equipment and materials and, if don't incorrectly, can be disastrous. The best way to really be certain that your new wiring is safe is to completely rewire you house. It may seem daunting, but why take the chance and endanger your family?
The licensed and experienced team at Power Pros has years of experience replacing unsafe aluminum wiring with more efficient and stress-tested copper that works in harmony with modern day electrical outlets and installation methods. Copper stands the test of time and is endorsed by the Consumer Product Safety Commission for use in housing.
If you need to contact an electrician to replace the aluminum wire in your house, then please call 408-842-4111 or complete our online request form.
We Service the entire Santa Clara County including San Jose, Gilroy, Morgan Hill and surrounding areas.